MBA Talk #67: Financial Modeling in Business: Key Elements for Success
In the fast-paced world of business, understanding and effectively managing your financial resources is crucial. To thrive in this environment, you need to grasp the key elements of financial modelling, and that's exactly what our upcoming seminar, "Financial Modeling in Business: Key Elements for Success," aims to provide.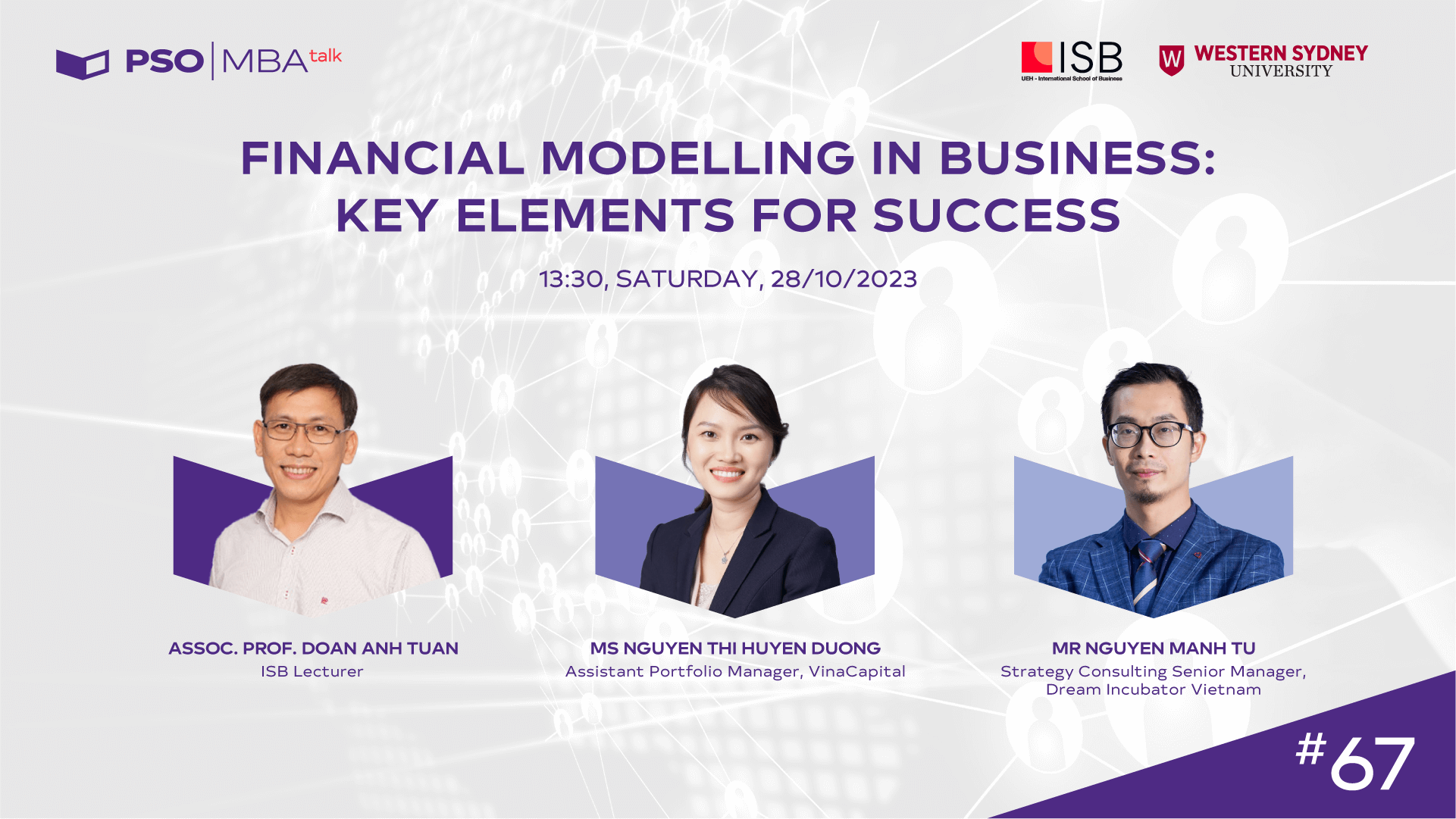 Seminar Highlights
Our seminar will delve into several essential aspects of financial modelling, providing you with a comprehensive understanding of its significance and practical applications. Here are the key talking points that will be covered:
The Importance of Understanding Business Drivers: Financial modelling starts with understanding the driving forces behind a business. Our speakers will emphasise the critical role business drivers play in shaping the financial success of any organisation.
How to Determine What the Business Drivers Are: Identifying the factors that influence a company's financial performance is a skill that every financial professional should possess. The seminar will guide you through the process of identifying and prioritising these drivers.
Monitoring and Improving Business Performance: It's not enough to know the drivers; you must also monitor and improve business performance. Learn how to use financial models to keep your company on the path to success and navigate through potential obstacles.
Reporting on Business Drivers: Effective communication of your financial insights is key. Discover how to create meaningful reports that help stakeholders understand your findings and the financial health of your business.
Applications in Financial Modeling and Valuation: Finally, we will explore how financial modelling applies to the valuation of companies and investments. Our guest speakers will share practical insights on how to use these models for decision-making and growth.
Guest Speakers
We are thrilled to have a lineup of distinguished guest speakers who are experts in the field:
Assoc. Prof. Doan Anh Tuan – ISB Lecturer: With a wealth of experience in finance and management, Professor Tuan will share his deep knowledge of financial modelling and its pivotal role in business.
Ms. Nguyễn Thị Huyền Dương – Assistant Portfolio Manager – VinaCapital: Ms. Dương, an accomplished professional in asset management and investment, will shed light on managing financial resources effectively.
Mr. Nguyễn Mạnh Tú – Strategy Consulting Senior Manager at Dream Incubator Vietnam: Mr. Tú will provide insights on applying financial models in real-world business scenarios, along with the challenges and opportunities they present.
Language and Timing
Time: 13:30, Saturday, 28/10/2023
Language: English
Format: PSO MBA students could participate at ISB – 2A Nguyen Thi Dieu, Vo Thi Sau Ward, District 3, HCMC
Conclusion
Join us at the "Financial Modeling in Business: Key Elements for Success" seminar to acquire invaluable insights from industry leaders, learn the art of financial modeling, and master the tools required for making informed financial decisions. Don't miss out on this opportunity to gain a deeper understanding of the vital role financial modelling plays in the world of finance and business.
MBA Talk is a series of seminars with the participation of Professors from major and international universities and experts, leaders, and senior managers in various fields coming from multinational companies and large corporations both within and outside Vietnam.
The guest speakers will discuss and share real-life business cases in order to provide in-depth knowledge, and practical experience, aligning with PSO's philosophy (Problem-Solving in Organization).